Tables 3.2 and 3.3 summarize the spacing of advance signing for express lanes and conventional plazas. Information on the survey methodology used to obtain the results presented below can be found in Subsection 1.4.2. As shown in the tables pertaining to toll roads, the distance of the first (furthest) sign in advance of the toll plaza varies from ½ to 2 miles for plazas with express lanes, while the first sign for conventional plazas is placed 0.31 to 1 ¼ miles from the plaza. Of the nine Toll Road agencies, all provided a minimum of 2 advance signs for plazas with express lanes, while six agencies provided 3 advance signs. Only one toll bridge agency provided express lanes, with the first sign being placed approximately 1,000 feet (0.2 miles) in advance of the plaza.
Table 3.2 Express ETC Toll Lanes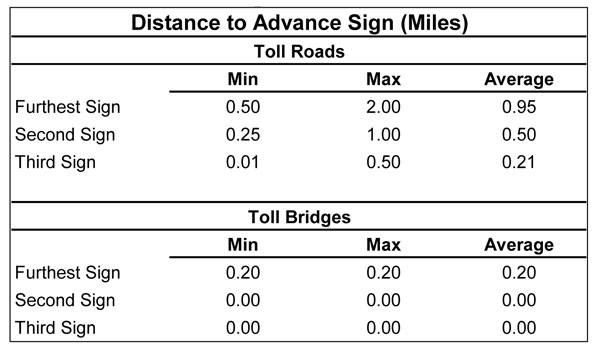 Table 3.3 Conventional Toll Plazas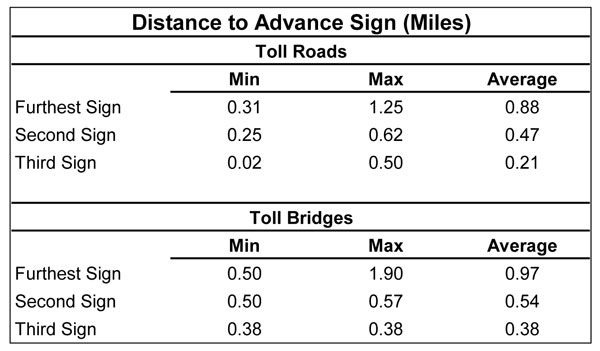 Of seven responding toll bridge agencies, four agencies installed 3 advance signs for conventional toll plazas with ETC dedicated lanes, while two agencies installed 2 advance signs. Only one of the toll bridge agencies installed only one sign in advance of the dedicated ETC toll plaza.
Table of Contents | List of Tables | List of Figures | Previous Section | Next Section | HOME
---
FHWA Home
| U.S. DOT | Operations Home | Privacy Policy

Federal Highway Administration - United States Department of Transportation