Specific Service Signs:
Full Service Food Logo Panel MUTCD Experiment
FINAL REPORT: October 25, 2005
PDF Version, 1.1MB
You will need the Adobe Acrobat Reader to view the PDF on this page.
Performed by:
Suzanne E. Lee
Jeremy D. Sudweeks
The Virginia Tech Transportation Institute
and
Susan Willis-Walton
The Virginia Tech Center for Survey Research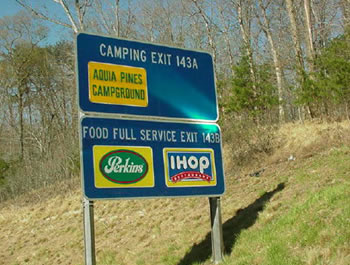 Performed for:
The Virginia Department of Transportation
Re: FHWA Official Ruling Number 2-552(E):
More Than Six Logo Panels for Specific Service Category (FOOD
Under the supervision of:
The Virginia Transportation Research Council
ABSTRACT
In order to test the safety and acceptance of logo motherboards containing more than one service type, VDOT began a pilot program in 2000 in which seven interchanges (five initially in 2000 and two added in 2001/2002) spaced throughout the commonwealth had Full Service Food logo signs added to the camping motherboard. In some cases, these Full Service Food logo signs were installed on their own motherboards when no camping motherboard was present. The signs have recently been in place long enough to perform meaningful before-after safety evaluations. Two hypotheses were tested as part of this project. The first hypothesis of this experiment is that permitting two Full Service Food logos on another motherboard with vacant space, when there is already a motherboard with six Food logos, will provide more information to the motorist and thus a better level of service. This hypothesis was tested by gathering information on the traveling public's understanding (or lack of understanding) of "Full Service Food" via a telephone survey. Additionally, it is hypothesized that this change will be found to be no more distracting and/or confusing to the motorist than a motherboard having combinations of logos such as Camping/Attractions. If this is true, then there would be no additional safety risk caused by having more than six Food logos on two sign structures. This hypothesis was tested using a before-and-after crash database analysis of before-and-after crash rates for the interchanges of interest as well as for control interchanges.
The telephone survey was conducted with 804 Virginia residents and had a sampling error of ±3.5 percent. Overall results from the survey showed that people have strong opinions about the logo sign program and are willing to share them. People generally reported low levels of confusion with sharing motherboard space. It is interesting to note that almost 70 percent of drivers had not noticed the new category. A large number of open-ended responses appeared to associate the existing Food category with fast food, and the Full Service Food category with sit-down service. However, the open-ended responses also appeared to show some confusion about the meaning of Full Service Food. Many respondents thought that Full Service referred to multiservice facilities, such as combined restaurant/gas station/convenience store/hotel. Even with the confusion about meaning, most thought it would be useful to have this new category. There was also general agreement on the meaning of breakfast. The demographics appeared to be fairly representative of the traveling public in Virginia with the possible exception of the male/female ratio (60 percent of respondents were female).
Crash records from 1999 through 2003 were examined to obtain data on crashes occurring one year before and one year after each of the signs were installed at the test sites. Adjacent exits were used as control sites. Results from the crash analysis indicated that no additional safety risk was found to be caused by having more than six Food logos on two sign structures. The crash data generally showed no sign of an increased number of crashes at the test exits after the signs were installed. Where significant results were found, they were generally driven by changes in the control exits, and were neutral with respect to the test exit. There was nothing in the crash data results to suggest that the additional signs caused an increase in crashes: 1) either during the year after they were installed as compared to the year before they were installed, or 2) as compared to an adjacent, test exit without the signs. Based on the overall survey and database analysis results, changes to the Manual on Uniform Traffic Control Devices (MUTCD) are recommended to allow more than six Food logos spread over multiple motherboards.