2003 Edition with Revision No. 1 Incorporated, dated November 2004 (HTML Format)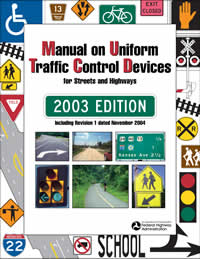 This is not the most current version of the MUTCD. The current version is the 2009 Edition with Revision Numbers 1 and 2 incorporated dated May 2012.
Disclaimer
The MUTCD HTML format is accessible to individuals with disabilities, per Section 508 of the Rehabilitation Act. While every effort has been made to assure complete consistency between the PDF and HTML files posted on the MUTCD website, the PDF files constitute the official version of the MUTCD. The PDF files take precedence over any potentially conflicting MUTCD text or figures that may occur in the HTML files.
Viewing the MUTCD
The full contents of the 2003 Edition are available in HTML format. Earlier editions of the MUTCD are available in PDF format only on this website. Certain Chapters of the MUTCD Millennium Edition (those affected by Revision No. 1 changes) may be viewed in HTML format, in addition to PDF format.
Printing the MUTCD
The PDF format of the MUTCD 2003 Edition is optimized for printing on a color or black/white laser printer. Go to 2003 MUTCD with Revision 1 only, November 2004 (PDF) page for further details on printing.
---